As soon as you find a good place to start your catering business, you must start making plans and preparations for the commercial kitchen. You need to think about many different things such as the design of the kitchen, hiring workers and the type of equipment you are going to need.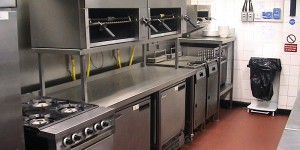 One of the biggest things to do is to kit out the commercial kitchen with all the necessary equipment. Regardless of the size of the kitchen, you still have lots of things to plan in order to make your kitchen well equipped so it can properly function. From bigger items like freezers, refrigerators and stoves to the smaller devices such as peelers and mashers, you must have a clear plan of what exactly you need.
Along with planning what kind of equipment to get, you should also consider the menu. Depending on the food you plan to cook, you can eliminate some items which may not be necessary for your kitchen. There is no need for you to buy kitchen equipment that your menu does not require using. Concentrate on those things that you really need, and plan according to your budget. It always pays to choose kitchen equipment that is of good quality and that will last longer so see how far your budget will stretch and research refurbished kitchen equipment to see if it will be a viable, cost-effective option.
It is very important to obtain quality catering equipment for your kitchen. Quality equipment is made to withstand the kind of pressure that a regular working kitchen gets, so you should not have to replace it so often. Commercial kitchen equipment should be resistant to all different types of extreme conditions and it should also be easy to clean and maintain.
A Larger kitchen items are more expensive, so choose your items wisely. Larger items include commercial refrigerators and freezers, electric oven, grills, dishwashers, sinks and working stations. Smaller items include different types of pots and pans, jugs, spatulas, knives, peelers, mashers, etc. All of these will be needed to equip your commercial kitchen effectively.
For more advice about opening a commercial kitchen, please contact us now.