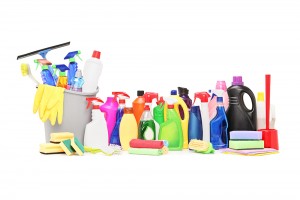 Cleanliness is absolutely essential in a kitchen to stave off the threat of contamination but also to keep pests at bay.
While chemical cleaners do a fantastic job at leaving kitchen surfaces sparkling and bacteria-free, using large amounts of these substances can leave some people feeling uneasy.
While their cleaning power is undoubted, substances such as bleach can be very harsh – and can be very harsh on any skin and clothes they come into contact with.
Likewise many people with sensitive skin will struggle with conventional kitchen cleaners.
But is there an alternative? Natural cleaning solutions have stood the test of time and many people swear by the cleaning powers of some basic ingredients.
Natural cleaning solutions for kitchens
There are two super ingredients that always get a mention when people ask for a solution to cleaning problems: vinegar and bicarbonate of soda. This formidable duo seems to work wonders on all sorts of kitchen cleaning tasks.
If you want to cut down on the amount of toxins in your kitchen you can always make a spray solution from ¼ cup of vinegar, 2 tbsp of bicarbonate of soda, 1 litre of water and half a lemon. As well as harnessing natural cleaning powers, this home-made all-natural kitchen cleaner should also smell nice and fresh.
Oven cleaning
Natural cleaning solutions will also work to shift grime from hardworking kitchen appliances, including the oven. Again bicarbonate of soda is a key ingredient.  Make a paste of bicarbonate of soda and a little water, then coat it over the inside of the oven before leaving, ideally overnight to get to work. Spray this with vinegar after it has been left to work then wipe off with a damp cloth – extra stubborn grease may need a bit more scrubbing.
While many natural cleaning recipes centre on the use of bicarb and vinegar, castile soap is another good natural product that can be incorporated into a kitchen cleaning routine.
If the idea of getting hands-on and creating your own natural kitchen cleaning solution doesn't strictly appeal there are a number of great eco-logically friendly products now available on the market.
As well as being kinder to skin, these also cut down the amount of toxins released in your kitchen – and in the environment.
If you are looking to update your kitchen design or equipment get in touch with Caterline today, call our head office on 01384 459111.