Even though they serve the same purpose – food preparation – the fact is that home kitchens and commercial kitchens are very different. With a proper design, a commercial kitchen can drastically improve the productivity of employees which ultimate means better service. In addition, with a good plan for setting up a small commercial kitchen, owners can save money too.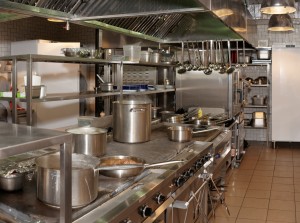 To start with, you must take care of your refrigeration needs. There are many refrigeration options that can work in different kitchens, but when we talk about small commercial kitchens it may be best to buy a fridge line station with additional fridge units. This is where the workers will keep the food when they prepare it. Of course, you should also consider buying walk-in refrigerator units because they come in sizes that can fit in almost any space.
Next, you should think about the storage space. Equipment and dry storage and storage shelves are a must for any commercial kitchen.
After that, restaurant owners must spend some time choosing the right cooking equipment. This is a very important task. For starters, you must buy a good HVAC system. There are strict laws and regulations about proper ventilation in commercial kitchens so do your research before buying a system like this.
You will also need an oven, broiler and gas range. You can choose whether you want to buy these items or lease them. Different facilities need different additional equipment. Consider buying (or leasing) things like flat grills, deep fryers, convection ovens and similar items if your business really needs them.
Furthermore, you'll need good food preparation stations and additional wares. When it comes to small kitchens you should think about the space, but don't forget that these preparation stations are very important, so use the space to the maximum.
Finally, purchase and install safety, sanitation and fire equipment. Once again, read the regulations and buy equipment that will meet the standards and regulations of the industry.
For more advice about setting up a small commercial kitchen please contact Caterline now.