Catering to new trends will make sure that the customer always leaves satisfied – and in the food and drink being aware of ever-changing trends is important to growth.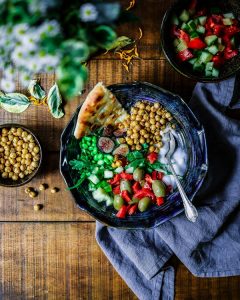 When looking ahead to 2020 and any changes that you want to make to your menus or the way that your kitchen operates, make sure that you have the right commercial catering equipment to allow you to embrace change successfully. 
As the world changes and people become increasingly focused on health, wellbeing and the environment this has had a profound impact on the food that they eat. 
While traditional favourites remain the preferred choice of many diners there is no denying the rise of health-conscious dining and, in particular, the vegan diet. 
Ten years ago, vegan options on menus would have been few and far between, now it would be unusual not to see a vegan option.
This ethical approach to dining and concerns about sustainability, while also demanding ever more exotic tastes and quality inform the food trends expected in 2020.
Food trends for 2020
Zero Waste 
Cutting back on waste is important for all of us. While waste in general is a major issue, food waste has been in the spotlight due to the energy intensive methods of farming and transport. Then, of course, there is the packaging. Discerning diners are attracted to restaurants that reflect their ethics when it comes to waste with more and more companies being transparent about their waste policies. 
More fresh food, and less packaging could have an impact on your commercial catering equipment with a need to accommodate more fresh produce in larger fridges and secure storage units.
Better choice for children
Kids menus are perhaps long due an overhaul. Allergies have risen massively in children, while parents are very wary of what they feed youngsters with many preferring a veg-rich, organic diet. Children are also being introduced to a wider range of foods at a younger age. Menus are expected to offer healthier options, with a wider variety of foods.
Sustainable foods
Locally sourced and ethically grown foods are a hit with diners conscious about how their choices impact the planet and their health. Locally grown food, with its shorter transport time and improved freshness is usually delicious making this a win-win situation.  
Going meat-free
Vegans and flexitarians continue to increase, as more people drop or cut back on meat for the sake of the environment or their health. Vegan meals do need to be prepared and cooked in an area where they will not be in contact with meat products, so if you are looking to cater more extensively for this market consider whether you might need additional commercial catering equipment to accommodate this.
Takeaway
One welcome thing about the impact of technology is that people still enjoy dining out in restaurants and buying takeaways. The internet has made ordering a takeaway easier than ever and many restaurants are tapping into this market by offering a wider range of restaurant standard food that you can eat at home. 
Speak to Caterline about your commercial catering needs
If you are interested in expanding the offering at your restaurant and need to add more commercial catering equipment to allow you to do this – such as preparation areas, storage and refrigeration – please contact Caterline Ltd.