When designing a kitchen floor plan, you need to take many things into consideration. Most people are focused on the functionality of the kitchen and getting the most from the space they have. This is quite natural and logical, but we should never forget that the safety of a commercial kitchen is equally important. So, whenever someone is preparing a kitchen floor plan, they must think about safety too.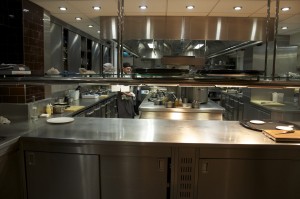 It is important to get the design of a commercial kitchen correct in terms of safety. The fact is that dozens of accidents occur in commercial kitchens all over the UK on a daily basis. Some of these accidents are minor, but there are cases when the accidents lead to fatalities. Cuts, exposure to harmful and hot substances, falls, slips and trips – these are just some of the accidents that people in commercial kitchens experience. With a proper commercial kitchen floor plan, you should be able to minimize the risk and avoid all these potentially harmful and costly accidents. Now let's see how you can achieve this.
To start with, you should keep a minimum distance between the sink and the hob and this min. distance should be 2 feet or 600 mm. At the same time, you will need a minimum gap above the hob of about 2 feet and 6 inches or 760 mm. Any hob must have a neat worktop or free space of minimum 8 inches or 200 mm on both sides.
This rule is especially important in cases where tall walls and/or cupboards go around the hob. They must be 8 inches away from the hob's edge to keep the area safe from damage and provide better handle movement whenever someone uses the pan.
Furthermore, you should stay away from short runs of worktop, at least those that are less than 3 ft and 3 inches or 1000 mm. The hob should not be positioned right under a window. Finally, there should be a distance of at least 1200 mm or 3 feet and 11 inches between every two rows of cupboards.
For more advice about keeping your commercial kitchen safe, please contact us now.