At Caterline, we believe there are numerous needs in a restaurant kitchen, so conduct some study prior to diving into the variables to consider when creating a commercial kitchen design.
Where to Start When Designing a Commercial Kitchen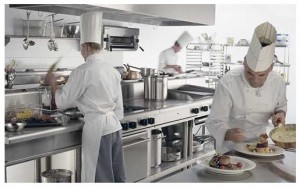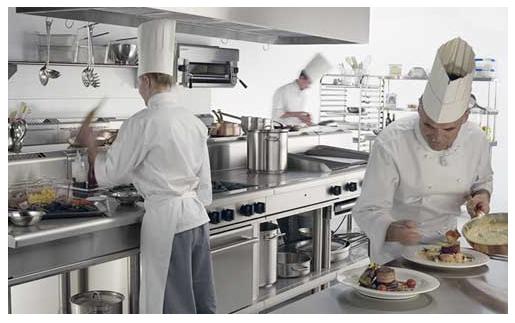 Step 1: Involve Your Chef
Your chef is extremely essential in the design phase. "No involvement from chefs often indicates a few things: Firstly, the faulty restaurant equipment. Secondly, the front of the house has no cooking ratio. Normally that doesn't mean enough kitchen space. Thirdly, the flow is completely incorrect." According to chef Jet Tila.
Your chef understands your cuisine more than you do and also understand the space to be effective for the kitchen crew. The most essential feedback you can collect is from the chef although you may want to include designers and the front staff.
Step 2: Know Your Menu
Without a menu, you cannot have a kitchen, thus the creation of the menu is at the heart of your design process. Please include all the dishes in your menu and each dish with all the particular components. Then enter the procedures to produce every item in the menu, as well as the devices to utilize. You may choose to put your ovens, preparation stations and so on using this information.
Step 3: Think About What You Don't Need
Kitchens may quickly become overcrowded. Consider how you can make each component of kitchen equipment perform twice as hard. Is it possible to prepare soup and salsa using an electric mixer? Is it better to use it rather than a standing blender?
Add accurate measurements of food preparation, presentation, refrigeration, and storage facilities, and be merciless in determining what is most critical. Will you have cold storage that is walk-in or free-standing? It's not possible to have it both ways.
Step 4: Research Local Health Codes
Restaurant rules differ by state and must be taken into account when planning a commercial kitchen. Health and fire laws, as well as personnel safety standards, must all be adhered to.
Regulations may limit the distances among a food preparation station and any sinks or drain used for disposing of, the placement of vents/grass traps, the heat and water tank size/temperature, and food storage space design/positioning.
10 Factors to Consider in Your Restaurant Kitchen Floor Plan
Now it's time to sit down alongside your designers and sketch out the layout of your restaurant kitchen. There are a lot of things to think about. There are no two restaurant kitchens alike, especially when it comes to different restaurant kinds such as full service, fast service, and so on. There are, nevertheless, several considerations that every back of home design should make.
1. Flexibility & Space Efficiency
Your kitchen should be just as adaptable as your menus. Do you have daily specials in your restaurant? Are you changing your menu with menus statistics by your side every season? Modular kitchens, such as those with mobile equipment or workstations which can be used for different activities, will help you make better use of your space.
2. Simplicity
The point is that your kitchen should be modular and allow you to easily make meals. Navigation should not be hard. You can do this by ensuring that you only use the equipment really needed, also think about where to place some stations, this lets you save room and money.
3. Kitchen Workflow
The majority of kitchens are disorganized. ; it's the adrenaline rush that comes with being a chef. The finest kitchens, on the other hand, make the most of the turmoil.
Cleaning, inventory, storage, meal cooking and preparation as well as serving are all aspects to consider while designing your kitchen. The garbage disposal and cleaning room is far away from the meal preparation area in this arrangement, and finished meals depart on one end while filthy dishes enter on the other.
4. Food Sanitation & Food Safety
One of the worst common mistakes people make when planning a restaurant kitchen is not having enough wash units. When sizing drain panels, shelves, and landing tables, consider the number of utensils, plates, glasses, and trays that will build over the course of your heaviest workday, and also dishwasher capacity.
Restaurant food hygiene and restaurant health regulations should be emphasized throughout the kitchens. Although cooking and preparing sections could be the exciting part of planning a kitchen, the washing stations are as vital. Consider where you'll put dirty plates and where you'll put clean dishes so that you find them easily.
5. Supervision & Training
The executive chef should have enough room at the back of the building to oversee (and teach) line chefs, line cooks, as well as other back of house workers. The number one difficulty for over 50percent of the restaurants polled in the Restaurant Success Report 2019 is to recruit ( and keep) competent restaurant personnel, therefore the creation of promotional incentive schemes for employees is highly relevant. The architecture of the kitchen must allow the executive chef space to monitor all the events.
6. Energy Efficiency
A lot of power is needed for commercial kitchen layouts to operate well. Most of the budget of a restaurant also accounts for energy costs. Therefore, it is recommended to position cooking equipment strategically around your kitchen style layout so that the hot air can be whisked away by the exhaust. Cold storage should never be placed close to the heat as this can cause the appliances to overwork.
7. Air Ventilation
Air ventilation should be considered in the very same spirit as energy efficiency. If there isn't enough ventilation in the kitchen, the indoor environment will deteriorate, including smells and airflow. Replace the vent hood filters and switch on the range fans whenever your chefs begin cooking, not halfway through.
8. Maintenance
What is the most common blunder made while planning a commercial kitchen? Making no provision for upkeep. Picture your oven breaking down 3 months after it was first installed. If the technician is unable to examine the damage due to some other equipment's or countertops being too close to the stove or ovens, you may have to replace it.
Prepare for the worst by building your kitchen to be flexible, allowing you to move specific parts around to reach any broken equipment, such as refrigerators, ovens, washing machines, and stoves.
9. Commercial Kitchen Equipment
Each restaurant will have various requirements according to the sort of food it is aiming to and the consumer base. As a restaurant manager or owner, while shopping for equipment's to launch your business, you have to take into account your own demands and goals.
The ideal approach to start shopping for more expensive items like your fridge and ovens is to conduct your homework and to also compare and evaluate reviews. If you have to apply for funding and loans, understanding what you need in advance and listing all of the main components of equipment's can assist to refine everything you need. Note that everything is to locate the proper equipment for your restaurant.
Here's a comprehensive list of all the kitchen equipment you'll need for your restaurant, whether it's owned or rented. This, too, is dependent on the specifics of your cuisine.
Hand soap/sanitiser dispenser
Oven
Mixing bowls, serving bowls
Deep-fryer
Fire extinguisher
Grill
Freezer
Rubber floor mats
Cleaning rags, cleaning buckets
Range
Steam table
Baking sheets
Reach-in cooler
10. Technology
Using efficient gadgets, foodservice organizations may enhance procedures, simplify kitchen operations, and minimize ancillary expenses with modern kitchen equipment and tools. Restaurants can now cook meals faster and offer higher-quality dishes for today's discerning palates thanks to advancements in technology and manufacturing processes for everything from professional kitchen taps to heating systems.
In addition, the technology in your kitchen should be versatile, adaptable, and simple to operate. Most restaurants use paper tickets, sometimes known as chits, that are displayed in the kitchen. With configurable routing choices to preparation workstations, tickets and fulfilment time data, and interfaces using online ordering systems, kitchen display screens could improve the accuracy and boost the number of requests your restaurant can service. Since each order includes a timer, the Kitchen Display Screen inform you precisely how long it takes to send an order to the client. We have a deeper understanding of how we are currently handling the line.
7 Examples of Restaurant Kitchen Layouts
There is no such thing as an ideal commercial kitchen plan. Every food service facility is distinct and will function in a different way, so you must decide what would best assist you achieve your kitchen objectives. However, there are a few fundamental commercial kitchen design plans to consider, all of which successfully mixes strong kitchen design concepts and kitchen elements.
1. The Island at the Center
Chefs gather in the same region with an island in the middle of the kitchen and easy handover between sub-chiefs and chefs. The layout also supports the senior chefs who can simply stroll all around the island and oversee the whole menu planning process. The layout of the island allows employee engagement and executive chef oversight via the main "command centre" or passthrough for all meals. The island is ideal for restaurants with a large cooking area to guarantee that the BOH crew is not hindered.
2. Zoning Regulations in the Kitchen
The kitchens with distinct sections for various jobs or areas are provided by all eateries. Servers must expose their own cuisine and several courses must be conducted at various stations. For each preparation or cooking unit or routing depending on service area, these concepts can need several KDS systems.
The kitchen is designed in this arrangement in accordance with the zone style, and the distinction is that the centre of the kitchen is a major island. This island generally where the entire cooking process is finished for the restaurant whereas the kitchen periphery is utilized to prepare and store food.
Dealing with a centralized layout such as the Island-style will make communication and oversight easier. This design is particularly fit for restaurants with enough room for cooking so that the island is not a hindrance for employees. It is not a small effort to design a commercial kitchen, but it will surely assist with a good grasp of the business and menus.
3. The Assembly Line Layout
This is great for eateries that serve huge amounts of the same cuisine, such as pizza joints or sandwich shops. The kitchen is organized by function, with equipment arranged up in a line to provide a conveyor system operation. Starting with the fridge, a pizzeria can move on to the dough-shaping section, the pizza preparation table, the oven, and finally the heating and storing unit. Considering what you will be offering and provided you have a strong vision for your company you can easily pick whichever layout is ideal for you.
4. The Restaurant Kitchen Layout That Glorifies Prep
Prep-line type kitchens are related to assembly line kitchens, but they stress the significance of preparing food in full-service and fine dining. This method is quite genuine and guarantees that you only have to wash a few pans. A cold tapas station is also included in the design, which serves meals separately.
5. The Ergonomic Kitchen Configuration
Although you must take into account inventory movement to the kitchen, the flow of staff within the kitchen also must be considered. An ergonomically designed kitchen includes distinct work and road lanes, which minimizes accidents.
In this situation, ergonomics is a priority, which involves ensuring that employees are comfortable and require as little movement as possible to perform their jobs
Cooking materials and equipment are in direct range to one another in an ergonomic restaurant kitchen arrangement. This guarantees that staff do not have to reach, stoop, bend, stretch or wander around to acquire what they need.
The following are some of the advantages of an ergonomic layout:
BOH employees will have better physical working conditions.
In the kitchen, minimizing movement enhances speed and efficiency.
Accidents are reduced by having separated workstations and traffic aisles.
The ergonomic commercial kitchen plan is suitable for restaurants with unusual kitchen designs where workers may face more difficult working circumstances.
6. The Open Restaurant Kitchen
The open kitchen concept is common in fine dining establishments because it allows guests to see the cooks create their dishes. A glass wall and service units facing the dining room are common elements. This strategy has advantages and disadvantages: it may encourage your chefs to produce higher-quality cuisine, or it may expose your guests to the heat (and turmoil) of the kitchen.
7. Bonus: Food Truck Kitchen Design
You probably don't think about food truck layout when you consider industrial kitchens, however, in a small 10′ x 30′ food truck, every one of the aforementioned variables is amplified tenfold. Creating a food truck kitchen that is organized on workflows, with units for pizza preparation, cooking, and serving will allow you to service many people.
The 5 components of a commercial kitchen
It is vital to consider the demands the kitchen needs to satisfy and the equipment connected with these needs before constructing a commercial kitchen area. You can only design your commercial kitchen if you know what the main components are that need to be fitted into the space that you have. This should happen at the beginning of your planning phase to ensure that the results are effective and efficient.
5 commercial kitchen components Include:
Storage
washing station
Food preparation
Cooking station
Service area
Storage
Cooking materials (utensils, pots, pans etcetera. ), foodstuffs (vegetable, meat, dried food), and table linens will all be stored in the restaurant's kitchen. For each of these things, your kitchen requires a distinct storage unit, including a fridge for perishable food, a cabinet for dry goods as well as cupboards for storing tools and place settings.
You can divide your storage area into units such as dry storage, cold and non-food.  You can further divide the non-storage area into three parts such as disposables, clean dishes and cleaning supplies.  Remember to clean and sanitize to avoid contamination.
Cold storage consists of everything that must be cooled or frozen whereas all non-perishable, as well as other consumables, are included in dry storage. This location could also include an equipment shipping reception facility, which will minimize the distance which the stock needs to travel.
2. Washing station
A commercial kitchen undergoes extensive cleaning to guarantee the safety of the food provided and the plates on which it is served. Separated washing facilities for food and dishes are recommended so that filthy dish suds do not contaminate fresh vegetables. To keep your washing stations running properly, you'll need industrial dishwashing equipment, sinks, and drying stands.
3. Food preparation
Depending on the type of cuisine on the menu, a commercial kitchen can contain numerous food prep sections. Counter space, cutting equipment, and packaging containers make up the food preparation part of a kitchen. Arrange food prep stations close to a refrigerator. This helps your BOH staff to keep raw materials safely and quickly before utilizing them. Usually, the meal preparation room is divided into two sections: one for preparing raw foods like, breaking down beef pieces and another for sorting foods into portions such as chopping veggies as well as mixing salad dressings. By positioning this part close to your storage section, chefs will be able to quickly retrieve fresh meals and plate them.
4. Cooking station
Except for raw food at your restaurant, a few cooking types of machinery will be needed for the execution of your cuisine in your kitchen. BOH personnel can maintain incoming tickets using a kitchen display system.
The remainder of the kitchen is occupied by the food cooking area. Large items of equipment such as stoves, ovens, and fryers will be found here because here is where primary meals are completed. Much like a food premise, it may be divided into smaller areas such as a bakery, grilling unit and frying unit. Since food is completed here, the food preparation area must be adjacent to the serving area on the front of the kitchen.
5. Service
Cottage kitchen regulations exist in many places, making it easy to have your home kitchen registered as a commercial kitchen.
You will, though, be required to pay fees and undergo inspections. When you design and install your commercial kitchen, you need to apply for a permit or license, which you must be renewed every year. Various health inspection authorities operate with various sorts of food establishments. A local or health agency will license and examine a retail food establishment, but a wholesale business is licensed and examined by a federal or state agriculture department.
Can I turn my home kitchen into a commercial kitchen?
Cottage kitchen regulations exist in many places, making it easy to have your home kitchen registered as a commercial kitchen.
You will, though, be required to pay some fees or charges and undergo checks. You should request to get your commercial kitchen registered and licensed when you first design and build it, and this license needs to be renewed every year.    Various health certification authorities operate with various sorts of food establishments. A local or state health agency will license and examine a retail food establishment, but a wholesale business will be licensed and examined by a state or federal agriculture department.
What factors can determine a commercial kitchen design?
Whatever commercial kitchen plan you pick, keep the following elements when you plan your layout.
Space Efficiency
First, you need to consider how and when to utilize the amount of space given to you. This entails knowing precisely what you require and recognizing what you do not require. Even though your kitchen only occupies a fourth of the restaurant, seek inventive methods to maximize your space.
Flow
Workflow should be considered while designing a commercial kitchen layout. This entails organizing your space in such a manner that it fits the daily activities that occur in the kitchen. This helps in minimizing confusion as well as avoiding accidents.  Even when you're dealing with a modest restaurant kitchen plan, the workflow from the supply, storage to cleaning and cooking should be taken into mind.
Flexibility & Modularity
Along with the structure of your restaurant kitchen, know that your menu is changed accordingly. Some aspects of flexible design that may support future menu modifications should be present in your kitchen. This might incorporate shelves, racks and rolling tables so that you can reorganize your area as necessary.
Sanitation & Safety
Consider sanitation while planning your area by researching your local health laws and food safety requirements. You'll most certainly come across rigorous guidelines that determine the layout of your commercial kitchen, including how far food preparation areas have to be from trash disposal stations, as well as the locations of the handwashing stations.
Don't limit yourself to food safety and cleanliness. The arrangement of your commercial kitchen should also include the safety of your employees. This includes having adequate fire escapes, floor drains, smoke alarms, and fire extinguishers, among other things.
Supervision & Training
Your kitchen layout should also include how your BOH staff will manage and teach new hires. This is particularly necessary for restaurants with a big kitchen crew, where a certain person like a head chef may be required to manage the job. If this is the situation in your restaurant, try removing some of the walls or barriers to make oversight easier and staff communication easier.
Technology
Although other restaurant kitchens are more technologically advanced as compared to others, a kitchen display system may help almost any establishment (KDS). With a Kitchen display system, the whole BOH team can view every ticket created, giving them all the data and information they will need to validate order details fast and efficiently — a method that is far more productive than utilizing paper tickets or tokens.
Energy Efficiency
It's no news that commercial kitchens consume a great deal of energy, with the majority of that energy being split into two sections: HVAC and cooking. Cooking accounts for about 35% of a restaurant's energy use, whereas heating and cooling account for about 28%.
Stock your kitchen with energy-efficient equipment to keep the majority of your energy bills down. You should also think about how you'll organize this equipment in your area to maximize efficiency. Position your cold storage equipment, for example, at a longer distance from the cooking stations, so that your refrigerators don't have to work as hard to compensate for the increased heat.
Air Ventilation
As previously stated, your restaurant's HVAC system is a significant energy source usage. If your restaurant has such a system in place, get it examined by an expert to verify it is in good operating order. In certain situations, replacing your old HVAC system can significantly reduce your total energy use (and costs). In addition, keeping a healthy commercial kitchen environment necessitates the use of your HVAC system.
Consider all components of your Ventilation and heating system when developing your commercial kitchen layout, especially makeup air units that replenish air expelled by kitchen chimneys and ductwork that distributes hot and cold air.
At Caterline, we do offer new commercial catering equipment and refurbished catering equipment if your wishing to save money.
Maintenance
One of the most common problems faced when designing a commercial kitchen arrangement is failing to account for upkeep. All of your kitchen appliances or your equipment will need to be fixed or changed at some time, and you'll need to make sure you have the space to do so. Your kitchen should be flexible to allow you to move components about and reach any equipment such as refrigerators and stoves.
Simplicity
Lastly, but probably most significantly, keep the arrangement of your restaurant kitchen simple. An effective and efficient kitchen is the cornerstone to a successful restaurant, so don't make it tough for your workers to accomplish their jobs by having your kitchen challenging to traverse. Create a commercial kitchen layout that stresses utility over everything else to simplify things.
Understand that just because your visitors won't see your kitchens does not really suggest that you shouldn't treat them with the same kind of respect as your dining room. A well-planned commercial kitchen design makes it simpler for your BOH employees to perform their jobs, as well as increase the efficiency of the restaurant as a whole, which is excellent for both your visitors and your bottom line.
How much does it cost to set up a small commercial kitchen?
The total cost of constructing, opening, and managing a kitchen to support your restaurant is estimated to be between $450,000 and $550,000.
Although this may appear to be a large sum, when the costs are broken down, it becomes clear how costly it is to build a new kitchen for your restaurant.
The following are some of the significant expenses:
Construction of a kitchen — $250,000 – $350,000
Food Licensing requirements, Permits, and Insurance: $12,000 and kitchen equipment mounting to $80,000.
How much space do I need for a commercial kitchen?
A better measure to use is the number of visitors you expect to serve at any one moment, rather than the average size of other kitchens. The general rule is to set aside at least five square feet for each seat in your front of the house. So, if you're running a restaurant that serves at least 30 people at the same time, 150 square feet could be enough. Creating a kitchen for a huge hotel dining room that can seat up to 400 people at a time? If you don't have at least 2,000 square feet for the kitchen, your crew may not be able to keep up with demands.
Many foodservice firms that use this technique discover that they have adequate space to carry out their tasks efficiently without occupying unnecessary space.
But a general rule is simply that. It must not be considered the last word. Every process is distinct and will have its own set of requirements. Dealing with a kitchen design professional may assist you in determining the proper sized commercial kitchen for your needs.