The idea of fine dining and what people really want from a restaurant has evolved rapidly over the last few 10 years, which makes on-trend dining a real plus point for a hotel.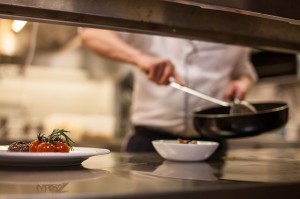 To many people the thought of escaping to a hotel is so attractive as it offers it all – and bringing a hip new dining edge to that experience will help to open up the appeal to foodies.
Whether it is the Instagram effect, the impact of more extensive travel or greater availability, many people really do want the world on a plate.
Hipster restaurants, vegan eateries, street food, fusion plates, sustainable menus – you named it and there is a restaurant that caters to the need for top quality and interesting food.
Part of the appeal of eating and drinking in bars and restaurants around the country is the experience itself.
As people shop and communicate increasingly on the internet they seek greater interaction with the world and brands through experiential marketing, where brands offer a genuine experience – and restaurants and hotels are no different.
Offering that something extra is a great way to expand the appeal of your hotel and the restaurant is a good place to begin.
Bring in new hotel catering equipment
Rather than becoming an add-on for a small percentage of guests who dine in, a hotel restaurant has the potential – and can often be – a draw in its own right.
After all a ready-made client base already exists, and if the hotel already has a name locally an interesting update for the hotel restaurantwill be easy to market.
Whether you choose to go all out and theme the restaurant around a radical new concept – or introduce a revamped menu into an existing setting it may be worth considering whether you also need to invest in new hotel catering equipment.
Is your kitchen already a well-equipped, well-organised hub of action? Or is updated hotel catering equipment needed to bring a new lease of life to the kitchen.
While a novel concept or a new-look menu will help to win over new customers, it is quality that will retain them so getting it right first time is essential and the right hotel catering equipment is vital to this.
Of course at the same time as exploring a new avenue in cutting edge dining to bring in new customers, the hotel catering equipment must still be up to the most important job of the day – providing breakfast for overnight guests.
A good breakfast is part and parcel of a hotel stay, which means that any changes to the hotel catering equipment to upgrade the kitchen must also accommodate this.
When providing customers with an experience that they will want to remember and repeat, serving up a meal that stays in the memory could be the key ingredient.
Caterline Ltd provides and installs new and reconditioned kitchen equipment for a range of catering establishments.
To find out how Caterline could help you to upgrade or redesign your hotel catering equipment get in touch.