The popularity of street food is such that it has swept through festivals, markets and streets right into high street restaurants as it became a major trend among foodies. 
While in its strictest sense street food should be just that it has now become an inspiration for menus in new and established restaurants.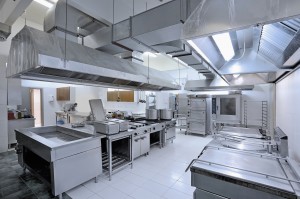 With commercial catering equipment in place and creative chefs ready to embrace the latest trend and experiment with quality food, restaurants are well placed to tap into this market. 
Already 'street food restaurants' are seeing huge success bringing traditional street food to the table, either as main meals or in small tapas style portions. 
Adding street food to the menu
If you are looking for a new offering to bring fresh custom in to your restaurant, street food could be the answer. With the right commercial catering equipment no doubt already in place, take time to find dishes that complement the theme of your restaurant and the style of food that you offer. 
If you want to introduce street food as an additional, separate menu it could be that you need to invest in new commercial catering equipment to make sure your kitchen has the capacity to deal with the extra demand. 
Excellent examples of street food include:
Indian dishes

Kebabs

Greek gyros

Mexican burritos 

Grilled cheese sandwiches

Hotdogs 

Chinese bao buns

Pizza
Branching out with street food 
If you already have an established restaurant, introducing street food could signal the start of a new venture. Why not consider opening a complementary restaurant and investing in new commercial catering equipment to serve a different version of what you do.
Street food is known for being authentic, creative and tasty. A separate venture could allow you to explore this and expand your brand while protecting your current brand.
There is also the possibility of taking the food that you make at your restaurant onto the road and offering authentic street food. 
With mobile commercial catering equipment you can replicate the recipes that have been a success in your restaurant as street food or introduce new ideas. 
Target festivals and markets to build up a following and to enjoy a ready-made market for your street food. 
Starting a street food venture
If you have yet to step onto the catering ladder but are an enthusiast with an idea ready to try out on the street food market there are two obvious avenues. 
Follow the traditional street food route of selling your meals at farmers' markets and festivals, making sure you have the right commercial catering equipment to meet demand and establish a brand.
Or you may prefer the idea of opening a restaurant that specialises in selling traditional street food. 
When starting out always make sure that you have reliable and efficient commercial catering equipment in place that won't let you down. 
Caterline Ltd sells reconditioned and brand new commercial catering equipment to suit all budgets. 
To discuss expanding, updating or opening a kitchen get in touch to find out how Caterline Ltd can help.