Gas interlock system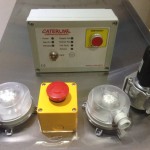 A system designed to link extract and air input fans to a control panel which isolates the gas supply via a solenoid in the event of fan failure and hence stop the build up of harmfull waste products in the kitchen and bring your installation upto current regulations.
We install our own purpose built control panel to ensure trouble free installation and operation
Extract Canopys
We can supply and install bespoke new and refurbished extract canopys at very competitive prices.
Following a site survey we will quote and if acceptable return to install a fully welded stainless steel canopy complete with fans, baffle filters, ducting and lights if required.
This can then be linked to our gas interlock system to meet all current regulations.
Ranges
We supply and install all makes of four and six burner ranges either gas or electric including Falcon, Garland, Lincat, Parry, Blueseal, Moorwood Vulcan and American range amongst others.
We also offer a large selection of good quality refurbed ranges in our warehouse.
Fryers
Falcon, Parry, Lincat, American Range and valentine are just a few of the makes of fryers either gas or electric that we can supply and install into all types of outlets.
Combi Steamers
We supply and install all types of steamers including Rational, Hobart, Falcon and convotherm.
Chargrills
There are many types of chargrills including Falcon,Lincat, Bonnet, Garland and Blueseal and we can supply and install them all.
Other items we can supply are Bain Maries, Wall Grills, Dishwashers, Griddles, Pannini Grills, Water Boilers, Ice Machines, Fridges & Freezers including uprights undercounters and walk in units.
Sundries and consumables
If you buy items from Nisbets like cleaning goods, Cups, saucers, Plates etc then give us a call as we can usually beat their prices as we deal direct with their wholesale side.

Fabrication
We can supply all types of new or used stainless steel fabrication from standard wall and centre tables to more intricate bespoke items as well as sinks, over shelves, gantry's, wall shelves and heated gantry's all made to suit your specific needs.

Restaurant Furniture
We now offer a very large range of new and used furniture to suit all budgets to give your establishment the look you desire from cafeteria seating to bistro bar to high end dining, please give us call to discuss your requirements.
We stock a large selection of refurbed equipment to suit all budgets so give us a call to arrange a visit to our warehouse.