The key to any successful commercial kitchen installation is in how it is designed.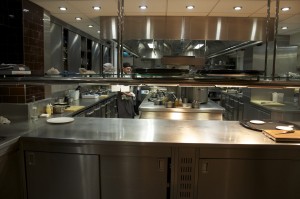 Whether you're designing a commercial kitchen for a public house, restaurant, hotel, cafe, wine bar or a leisure centre there needs to be special attention on the practicality, functionality, efficiency and accessibility of your commercial kitchen space.
Having great design in your commercial kitchen will not only increase functionality, it will also increase efficiency and profitability.
A vital consideration for the design of your kitchen is the type of menu that you are planning to have. You need to think about how diverse your menu is going to be and what seasonal options that you might want to introduce. This doesn't mean that you have to be completely rigid with your menu but having some idea will allow you to think through some of the crucial aspects of your kitchen design such as:
The type of kitchen equipment you are going to need?
How many preparation areas are required?
What will the peak service times be?
How close the kitchen needs to be to the restaurant?
What type of cookers are you going to need?
Where should the freezers and dishwasher go?
How many staff are going to be working in the kitchen?
The different types of food you are planning to use, the preparation and storage areas and the separation of meats and vegetables is essential to avoid cross-contamination. The health and safety aspects of your commercial kitchen design are vitally important and need to be taken very seriously so that your staff can work in a safe environment and your diners are not subject to any potential health risks.
Your commercial kitchen needs to work efficiently so that the flow of food from freezer to table works effectively. Other considerations such as ventilation, water supply, lighting, flooring etc are all part and parcel of a successful commercial kitchen design.
At Caterlineltd we have been designing and installing successful commercial kitchens for many years so if you need any advice on the above then please do not hesitate to get in touch.