The success of your commercial kitchen will depend on whether you get the essential elements of your kitchen design right. These essential elements fall into categories such as storage, refrigeration, delivery area, space, preparation, cooking, cleaning, flooring and lighting. Let's take a quick look at each of these areas: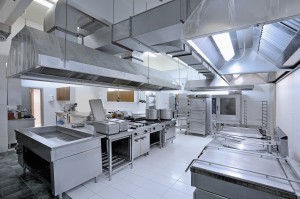 #1. Delivery area
You will be receiving food products delivered to your kitchen on a daily basis so you need to have the space and facilities to deal with this. You will need equipment and carts to move products from one space to another so you need to budget for this.
#2. Storage  
How much storage are you going to need? Keep a record of the volume of food items and supplies you will be receiving and how much of it gets used on a daily basis to calculate the likely storage space you are going to need.
#3. Refrigeration/freezers  
You will need enough refrigeration and freezer space to keep your short term and long term food and drink products fresh. Take an inventory of the foods/drinks you need and what the turnaround is going to be like.
#4. Preparation and cooking  
What kind of menu are you going with and have you decided the type of cooking equipment and preparation space you are going to need? Your menu will determine the cookers, fryers, ovens etc you are going to need so don't just think about what you might need now. Think about how your menu may evolve and plan for it.
#5. Cleaning  
You will need sufficient dishwasher equipment to cope with the number of plates and cutlery you are likely to be using. Cleaning requires quick turnaround so plan carefully where your dishwashers are located to avoid unnecessary carriage. You will also need enough space to deal with food and drink waste as well as enough hand sinks in the kitchen for your staff to use.
#6. Space
This is critical to everything. The space you have available will determine the layout and design of your commercial kitchen so you need to think about footfall, the number of staff, health and safety and optimising the speed from kitchen to the table.
#7. Lighting  
Adequate lighting to perform culinary tasks is vital so the type and number of lights you are going to require need to be a part of your planning.
#8. Flooring
This needs to be strong, durable, slip-resistant, safe and easy to clean and maintain. Make sure that your commercial kitchen flooring ticks all these boxes.
For more information about commercial kitchen design and how you can maximise the space you have available, please contact Caterline now.