'Traditional pub fare' is still a staple of many pub menus but nowhere has the revolution in the nation's eating habits been more apparent than in the UK's beloved pubs.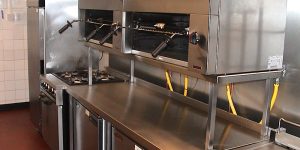 In fact, gourmet pub grub is now just as common a theme as traditional pub grub – and you can pretty much rest assured that should you go down the route of tradition it will taste sensational.
The nature of pubs has lent itself to these community gathering spots becoming hotbeds of culinary genius where you can get amazing meals in a setting packed with character. What is not to love?
Specialist catering equipment for pub kitchens
With many kitchens, particularly in free houses, giving chefs the freedom to create and develop their own menu, pubs have unleashed a creativity and commitment to standards that have transformed the face of pub food.
Red Thai curry, stone-baked pizzas, roasted duck, artisan pies and wholesome vegan fare now jostle for space on pub menus – all home-made and brimming with flavour

Chips remain a perennial favourite, but these are often 'triple cooked' or replaced with Puy lentils, giant couscous, potato fondant, pureed cauliflower or pan roasted potatoes
In terms of equipment needs this has seen a shift towards high-end catering kitchens with many pub kitchensnow stocked with the equipment that allows them to create a high-quality, diverse menu.
Replacing a reliance on fryers for dishes such as a scampi and chips and large-scale grills for steaks, a pub kitchen needs a full compliment of equipment to allow it to compete with rival offerings.
Is it time to upgrade your pub kitchen?
Some pubs promote niche selling points, such as offering stone-baked pizzas which has seen establishments invest in traditional pizza ovens.
Pubs have also embraced vegan food, ensuring that there is something for everyone on their menus – this in turn brings a need for separate preparation and cooking areas.
An emphasis on fresh and seasonal food has also seen a shift away from freezer storage as the 'go to' option, with more fridges and general storage needed to store fresh goods.
Expanding the art of the artisan 
Creativity needs space to breathe, which transfers in a very literal sense to larger workspaces to prepare fresh ingredients, whip up purees and bake artisan pies – not to mention shape pizzas!
Rather than compact one-size fits all kitchens that may have served pubs in the past, the new expectations of pub food mean a catering kitchen that is equipped for the task.
In the face of a smoking ban and continued warnings to cut drinking levels, many pubs have now thrived in a new role of atmospheric quality restaurant, without losing the charm of being a traditional pub.
Make sure that your pub kitchen is set up for success by upgrading space, storage and specialist equipment to meet the demands of the discerning pub diner.
Quality commercial kitchen equipment
Caterline Ltd offers new and re-conditioned professional catering equipment, as well as a design and installation service.
If your pub kitchen needs an overhaul to meet demand get in touch to find out how Caterline Ltd can help.