One of the most important tasks of setting up a commercial kitchen is fitting it out with the best quality kitchen equipment you can afford. This is an area where you shouldn't really compromise because the quality of your equipment will make a huge difference to reliability and how your commercial kitchen ultimately operates.
Naturally, the sheer volume of cooking handled by commercial cooking equipment is going to be far greater than a normal kitchen so your commercial cooking equipment needs to be able to deal with this. Therefore it is important that you invest in commercial cooking equipment that is capable of cooking in large scale in order to keep your customers happy.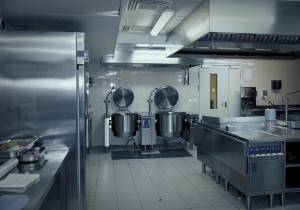 Commercial kitchen equipment will go through a lot of daily wear and tear so you need to choose equipment that is durable, will last a long time and will not let you down.
Kitchen equipment that needs a lot of maintenance or keeps breaking down will not only cost you more money in maintenance and repairs but it can also be damaging to your reputation, especially if you relied on that equipment for delivering different types of meals on your menu. In fact, the menu that you select will be the main driver of the kitchen equipment that you buy so this is where it pays to do some good advance planning.
Any kitchen will have its limitations on space so you need to think about the exact equipment you are going to need, where it's all going to go and the best way to keep your kitchen operating efficiently with the kitchen staff you will be using.
Of course, on top of this you need to consider all the health and safety aspects as well to ensure that your commercial kitchen is a safe place to work.
If you need any advice on the best commercial kitchen equipment to buy for your kitchen and how to plan a commercial kitchen space then please contact us now, we would be happy to help.