Many communities are in desperate need of venues that are available to hire and adding a kitchen could bring new life to an underused building to help fill that gap.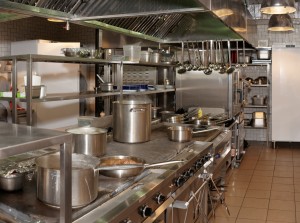 Village halls, churches, scout huts and even schools can find it difficult to balance the budget that keeps them at the heart of community life.
A number of community organisations rely solely on volunteer support and money raised by these helpers to continue to be viable.
However, when a community space has room that is unused for a least part of the week, and the community is in need of additional venues to hire, stepping up to meet that demand makes sense.
Boost revenue
Taking the step to rent out halls to clubs, individuals and organisations can bring in much needed revenue to protect their future.
One way to add to the appeal of a community space is to add a kitchen – or upgrade an existing kitchen.
Grants are available to help community projects and a community will very often get behind a fund-raising drive that will improve amenities in the local area, which will help to meet the cost of adding the kitchen.
Adding a kitchen to a community hall
Once complete, the convenience of having a kitchen on-site should help to raise the profile of a community space or village hall and generate regular revenue through bookings such as:
Children parties
After school clubs
A meeting place for clubs
Baby and Toddler classes
Sports clubs
Dance classes
Family celebrations
Adding a kitchen to your community hall enables clubs to offer participants or parents drinks while they attend or wait. A kitchen also allows clubs to cater for people such as an after school club, or for food to be easily served at parties.
Adding a kitchen to a community hall is an excellent way to widen the appeal of a venue and to make sure it remains a popular place in the community for years to come.
There are so many diverse options when it comes to modern catering, especially with the popularity of vegetarian and vegan dishes continuing to gather momentum.
Speak to the commercial catering experts
To find out more about adding a kitchen to a community space, or upgrading a kitchen in a village hall, get in touch with the team at Caterline Ltd by calling 01384 459111.