At Caterline, we believe the kitchen is the powerhouse of every restaurant, it's where all the magic happens and therefore, what comes out of it needs to be excellent to please customers. The kitchen's layout determines how well the restaurant operates, when it is designed strategically it will have a positive impact and the team will also be able to work effectively and efficiently to deliver high-quality meals to customers in time. But when the kitchen is poorly designed, it affects the BOH team, the staff cannot work effectively because they constantly have to worry about bumping into each other when serving customers, etc.
This is why we want to help you choose from among the best commercial kitchen layout plans.
In order to run a successful restaurant, you need to consider the kitchen's layout. It needs to be easy to use and also enable the staff to deliver excellent services in time without any obstacles. So whether you're building your commercial kitchen layout from scratch or already have the building, you need to make sure the kitchen layout is excellent for your business. Renovate the building if you have to and make sure there's no hindrance that could slow down your business and make your staff not work effectively.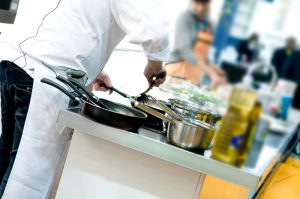 Commercial kitchen layout types
Now that you understand the reason why your commercial kitchen layout needs to be on spot, it's time you take a look at the five best commercial kitchen layout types. These have been proven to be excellent for any restaurant whether it's a big or small layout and will have your business delivering the best results. Take a look at them and decide which one would best suit your business needs.
1. Assembly line layout
This commercial kitchen type consists of a central row or island in a single line. It enables ingredients to move without obstacles from a food prep station, to cooking the meals, and finally a place where the cooked food is picked up and served to customers. The assembly line layout has many benefits, for starters, it accommodates all your stuff at once, where they can each concentrate on their various tasks, it is excellent for high-volume, quick service restaurants with many preparations and limited menus and it provides a seamless flow of ingredients from one place to another. The kitchen layout is excellent for fast food restaurants that have limited menus and have the same preparation styles.
2. Island layout
This type of commercial kitchen is one of a kind, it begins with the circle layout and adds central preparation or cooking place. All the cooking equipment like stoves, ovens, and fryers are placed at the centre of the kitchen. While the non-cooking places such as the dishwashing and food preparation places are on the perimeter of the kitchen. This popular kitchen layout also has many advantages, firstly, the cooking station is the heart of the kitchen and therefore meals are prepared the best way possible, secondly, the circular flow of the kitchen allows the staff to communicate easily and thus providing the best services to customers, and finally, it is very easy to clean up.
3. Zone-style layout
This is another popular commercial kitchen layout you need to consider, it is very easy to use and provides the best results. With this style, the kitchen is divided into separate stations for every activity, i.e., food preparation and dishwashing. Each zone has its own food prep style, e.g. a zone could be specifically for soup and salad, while the other is for meat only. This commercial kitchen is suitable for big restaurants with a lot of staff and diverse menus. Small restaurants should avoid this type of kitchen as it does not allow multitasking and needs more space. This kitchen layout also has a lot of benefits, for starters, it enables BOH staff to divide and do a lot of tasks at the same time, each worker can concentrate on their area of expertise, and the style also leaves a big open space in the middle of the kitchen to allow workers to work effectively and promote better flow.
4. Galley layout
All the stations and equipment are on the perimeter of the kitchen with this commercial kitchen. When the kitchen is and tight, then everything sits along two parallel walls. This kitchen style is big enough to have a ring layout with empty space in the middle, multiple cooks can prepare food in the kitchen and can as well rotate to work multiple stations at once. This layout is more suitable for tight spaces with fewer staff.
5. Open kitchen layout
The open kitchen layout is the most unique of them all. The open kitchen layout means the kitchen is open to the dining room so that customers can see all the work done by the staff behind the scene. If you decide to use this kitchen layout, you need to make sure that all the hot cooking equipment are kept far from customers. If possible you should consider putting a glass partition between the service area and the dining room, so that customers can still see how the food is prepared but are safe from any harm. This commercial kitchen layout is awesome for entertaining customers; they are usually seen at high-end restaurants or restaurants with small commercial spaces. The advantage of this kitchen layout is that guests are able to see how their meal is cooked which provides entertainment to them, it can as well speed up service because there is a small distance between the kitchen and the customers.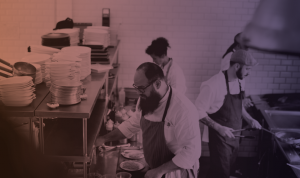 The 5 components of a commercial kitchen
It is very important to consider the needs that the kitchen must meet and the equipment associated with those needs before you actually have your commercial kitchen designed. Once have knowledge of what components need to fit in the kitchen in the first place, it is very easy to design the kitchen more effectively. Below are the five components of a commercial kitchen and hopefully they will give you an idea of how you should design the kitchen.
1. The Food Storage Area
Every commercial kitchen layout needs to have a storage place where different cooking tools and foods are kept. Therefore, your kitchen requires separate storage units for each of these items, for starters, you will need a refrigerator to store all the perishable foods, a pantry will be best for storing all dry foods and cupboards are best for storing cooking utensils, pans, etc.
2. The Food Preparation Area
Commercial kitchens need to have several food preparation areas according to what food is on the menu. The food preparation area should consist of cutting tools, counter space, and storage containers. The food preparation area should be close to the refrigerator so that your BOH staff can be able to raw ingredients to the time they are needed for use.
3. The Cooking Area
Your commercial kitchen needs to have enough space for cooking equipment to prepare food according to the menu, it should have a gas range oven combinations and commercial fryers, and other important cooking equipment. So the layout of this cooking area needs to be proper so that your staff can cook and serve your customers more effectively.
4. The Service Area
The commercial kitchen needs to have a good service area, this area is used for plating dishes and passing them to waiters to deliver to customers. The service area must have heat lamps so that the food is kept warm for the customers. The design of your commercial kitchen should assure that the service area is near the dining room to reduce the distance and time taken for waiters to serve customers.
5. The Cleaning Area
Every commercial kitchen needs a cleaning area, this station is for washing dishes, utensils and making sure everything is clean to assure the safety of the food served to the customers. The best thing you can do is create a separate cleaning area for food and for dishes, so that dirty dishes do not get in contact with food. The cleaning area should consist of dishwashing machines, sinks and drying racks.
The most important commercial kitchen layout considerations
Your kitchen storage should be located where your staff can easily have access to it this makes it easy for them to work effectively without facing obstacles.
Space Efficiency
When your commercial kitchen design has efficient space, your staff can work effectively. Therefore, you need to know what's needed in the kitchen and what isn't needed. This is to avoid filling your space with unnecessary equipment that will not be used. For example, it may seem cool to have a second walk-in freezer but then you need to ask yourself if it's needed or if it's just going to stand in your staff's way of If working effectively. If it's not needed, then don't bring it in.
Staff communication
Your kitchen design should allow your staff to easily communicate as they work. This helps them to work effectively as a team and they deliver in time as well, it also avoids instances whereby workers bump into each other creating a mess.
Sanitation & Safety
Sanitation sold be considered when designing your kitchen layout because it is critical to the health and safety of your business and is also heavily regulated by federal, state and local municipalities. They have rules on how food should be handled, and how supplies and other equipment should be cleaned.
Flexibility & Modularity
It's pretty obvious that your menu will not stay the same forever, it changes over time to keep updated with evolving tastes and techniques, according to the ingredients available. Therefore, your kitchen needs to be able to adapt to all the changes in order to stay in business.
Workflow
A workflow that is not organized is likely to cause confusion and accidents which will then reduce the efficiency of your commercial kitchen. To avoid this, your staff needs to have order and there should be a layout that will facilitate their movement. Almost all kitchens have a workflow that includes these seven steps:
Delivery
Storage
Food Prep
Cooking
Service
Cleaning
Supervision & Training
Your staff needs to be supervised so that they work more efficiently and deliver the best to customers. They also need to be trained to handle any situation in the restaurant.
Energy Efficiency
This is an important factor to consider for all commercial kitchens since it has equipment running all day long. When properly managed, energy-efficient devices and processes will have a positive impact on the environment and your reputation as well, moreover, it will save you a lot of money. To achieve this, you need to make sure you choose equipment that requires less power.
Air Ventilation
Your kitchen needs to have an air ventilation system that will remove the irritants in the air while also controlling the temperature throughout the kitchen area
Maintenance
Once your kitchen appliances get damaged, you need to have someone ready to fix them as soon as possible so that your staff is not disturbed. Again, you need to make sure the kitchen is well maintained to avoid any accidents.
Simplicity
Your kitchen design should be simple so that your staff can work effectively. Complicated kitchen designs may slow down the working process hence leaving some customers unsatisfied.
Design the layout with a Professional – Get In Touch
Caterline is the leading catering equipment suppliers and installers of commercial kitchens for restaurants, hotels, bars, etc. Get in touch with us today and we will handle all your commercial design needs in the areas of Birmingham, Manchester and London.
For more information contact us on 01384459111, our team of experts are ready to come to look at your place and discuss further with you.
Keeping Your Kitchen Up to Code
Our team of experts will help you keep your commercial kitchen layout up to code. For more information call us today and we will make arrangements to come to your place and discuss what we can do to improve it.
Are there regulations In UK when designing a commercial kitchen?
Yes, there are regulations when designing a commercial kitchen in the UK. They state that a commercial kitchen should be fitted with a Natural Gas and interlock system to abide by UK standards. This ensures that gas passes into your appliances safely.
How much does a full commercial kitchen cost?
A full commercial kitchen can cost somewhere between £10, 000 and £100,000. But you will have to spend more when paying to have the features you want and also to be in compliance with local regulations. To get an idea of how much it would cost for designing a commercial kitchen, speak to our Caterline team today for a free quote.
How much space do you need for a commercial kitchen?
According to some research, the average size of a commercial kitchen is 1,051 square feet. However, a stronger metric is not to judge your kitchen by the average size of other kitchens, the thing you need to consider is how many guests you plan to serve in your restaurant at any given time. If you plan to serve 30 people at a time, 150 square feet will be enough. If you want a kitchen for a large dining room with over 300 guests, then at least 2000 square feet would do for the kitchen. By following this methodology, then you'll have enough room to carry out activities effectively without taking up unnecessary space.