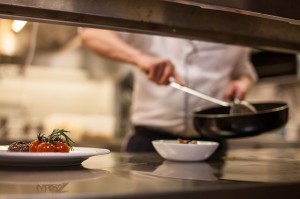 So much more than just making a cake, treating yourself to a meal at your favorite restaurant, or reminiscing about that delicious dish you tried on your last holiday; World Food Day represents something far more significant.
About World Food Day
Every year on 16th October, World Food Day is celebrated around the globe. It acknowledges founding the Food and Agriculture Organisation (FAO) of the United Nations in 1945.
Each year, there is a different theme. In 2016 the theme was 'Climate change: Climate is changing. Food and agriculture must too.' This year, 2017, the theme is 'Change the future of migration. Invest in food security and rural development.'
Why should we care about World Food Day?
Food is a basic human right. Investing in sustainable food systems and rural development means addressing some of the major global challenges – from feeding the world's growing population to protecting the global climate.
Events are organised in over 150 countries across the world, making it one of the most celebrated days in the UN calendar. These events promote worldwide awareness for those who suffer from hunger and call to action a need for nutritious diets for all and the importance of food security.
World Food Day is a chance to show commitment to the 'Sustainable Development Goal', which is to achieve Zero Hunger by 2030. It's also a day for us all to celebrate the progress made towards reaching #ZeroHunger.
Reaching the goal is possible. Out of the 129 countries monitored by FAO, 72 have already achieved the target of halving the amount of people suffering from hunger by 2015 and extreme poverty rates have also been cut in half since 1990.
Some facts about hunger
Taken from the FAO website:
The world produces enough food to feed everyone, yet, about 800 million people suffer from hunger. That is one in nine people. 60% of them are women
About 80% of the world's extreme poor live in rural areas. Most of them depend on agriculture
Hunger kills more people every year than malaria, tuberculosis and aids combined
Around 45% of infant deaths are related to malnutrition
The cost of malnutrition to the global economy is the equivalent of USD 3.5 trillion a year
1.9 billion people – more than a quarter of the world's population – are overweight
One third of the food produced worldwide is lost or wasted
The world will need to produce 60% more food by 2050 to feed a growing population
No other sector is more sensitive to climate change than agriculture
What can we do?
Every year, a large number of events are organised in around 150 countries across the world to celebrate World Food Day – marathons, hunger marches, exhibitions, cultural performances, contests and concerts. Find out what events are going on in your local area.
We can also make a conscious effort to be more aware of our food – where we get it from, how long we've had it, coming up with ways to use every last scrap. You can find inspiration from our Top Ten Food Trends for 2017 blog.
Zero waste, ugly fruits & vegetables and fermented foods are all ways of using leftover and waste produce to produce some yummy, healthy, trendy dishes! Most of us are too quick to just throw something in the bin, and in commercial kitchens you have to be extremely careful, but double check produce, do some research – there are lots of zero waste recipes, books & chefs out there, and come up with some innovative new ways of making food last longer.
You can find out more about World Food Day by going on to the FAO website. Write tweets and posts including the hashtag #WFD2017 and share these on your social media channels. Why not find us on Facebook and share your photos and ideas on World Food Day.