Commercial Kitchen Installation
Caterline are specialists in all aspects of commercial kitchen installation.
Commercial kitchen installation
Caterline are specialists in all aspects of commercial kitchen installation.
Our many year's of extensive design and installation experience in the industry and extensive expertise of the catering sector means that we can provide you with a complete solution for all of your catering equipment within our commercial kitchen design and installation project.
From a one-off piece of catering equipment to a full turnkey project Caterline offer a commercial kitchen installation service second to none, using our own highly trained kitchen engineers who are fully conversant with all current regulations. Following tiling and finishing of the build stage, Caterline engineers are then able to install appropriate appliances and commercial catering equipment installation to any catering premises or premise that have a food service, from a pub, hotel, or club kitchen right through to a corner cafe – and everything in between.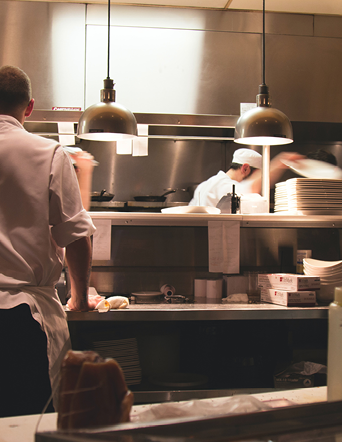 Our aim is to give you complete peace of mind that your commercial kitchen and installation project will be completed on time, in line with the agreed budget, and the commercial kitchen installation that is carried out will be executed to the very highest of standards of the industry. Our engineers team will optimise the space you have in your commercial kitchen and install the best food service equipment to make your business run more efficiently.
All of our team are highly trained commercial kitchen installation professionals and we always work with fully qualified Gas Safe and Electric Safe engineers to ensure that the job is completed to the correct industry standards.
What Qualifies a Commercial Kitchen?
A commercial kitchen installation is appropriate for people with commercial premises or that provides catering services, big or small, to customers or clients on a regular basis. A commercial kitchen installation can make commercial catering simpler, safer, and much easier. With a kitchen designed crafted by a commercial kitchen expert, with your specific design and installation requirements adhered to, we can come up with a commercial kitchen installation to make your life easier with your business able to run more efficiently.
What Does a Commercial Kitchen Require?
Commercial kitchen installation and kitchen design and installation require your preferences, the knowledge of your specific catering equipment for your commercial kitchen, and the size our experts have to work with. Professional, commercial kitchen installation should be tailored to your individual needs in order to optimise your commercial kitchen and its day-to-day running.
Do you Need 2 Sinks in a Commercial Kitchen?
Commercial kitchen installation for been the smallest commercial kitchen would require at least two sinks. A larger commercial kitchen installation may need several built-in with their kitchen installation.
At least one double sink is required in a commercial kitchen installation which is to be designated for washing catering equipment. Another sink should be a designated hand-washing station and the kitchen installation may need further sinks to have separate facilities for preparing food.
What are the 4 categories of commercial catering equipment?
We can separate the categories of kitchen installation equipment into four types: food production, kitchen maintenance, food storage, and everyday utensils.
Food Production Equipment:
Within this category there would be; cooking ranges, ovens, specialist ovens such as deck or rack ovens, vegetable choppers, and cutters, steamers, and cookers. 
This could include catering equipment like dishwashers, dish warmers, shredders, garbage compressors, and other catering equipment that helps with the general maintenance of the commercial kitchen.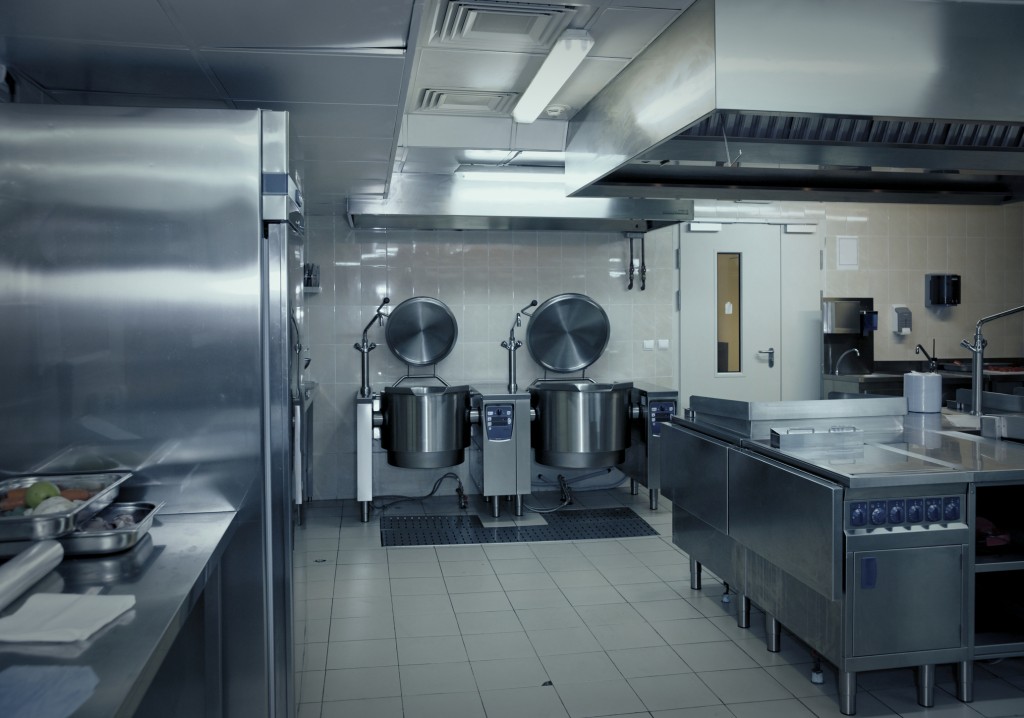 Under this category, there would be catering equipment such as; fruit and vegetable storing systems, cold storage systems, freezers, refrigerators, heated storage systems, and wall shelves – often stainless steel. 
Commercial Kitchens Utensils 
This would include any catering equipment utensils required within commercial kitchens to aid operation, from spatulas and fish slices to ladles and spoons. 
Commercial Kitchen Installation
Our design and installation teams will work closely with you to ensure that your kitchen installation meets with your requirements. The practicality and functionality of your commercial kitchen space will be a chief focus and the installation will be carried out with the type of design flair needed to create a stylish kitchen that works.
The attention to detail that we apply to installation projects is what makes us stand out. We know how important your kitchen is to your business and we are committed to delivering you a high quality service. From small installations to multifunctional commercial kitchens, our focus and attention to detail is exactly the same and you can be rest assured that we are dedicated to delivering on our promises.
For more information about our comprehensive commercial kitchen installation service please contact us on 01384 459111 and speak to one of our design specialist team.