Food hygiene ratings are hugely important to the way your business is perceived and taking steps to secure a five-star rating makes sense.
The Food Hygiene Rating is a scheme run by all local authorities in England, Wales and Northern Ireland. The scheme provides public information about the hygiene of food preparation and services within a commercial business.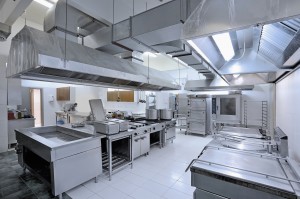 In reality, a local food hygiene inspector is a bit like a law enforcement officer who has the power to prosecute and change the future of a food business within minutes.
Obviously the bottom line when it comes to the Food Standards Agency Food Hygiene Rating Scheme is protecting the health of the public, which means getting it right matters.
Of course a five-star rating is also good for business and can be proudly displayed at the entrance to your restaurant.
A one-star rating, however, can have dire consequences. With food and hygiene ratings easily available to view publically online a poor rating can be quickly picked up by the local media giving unwanted publicity – even if the poor rating was the result of an issue that has been quickly rectified.
Social media will also play a part in sharing poor food and hygiene results and, unfortunately, once it is out there on social media it is difficult to control or remove.
Make sure your kitchen has a five-star set-up
Ultimately getting it right first time matters so making sure your kitchen is in good condition and you have excellent working practices in place is essential.
Inspectors will want to see that all catering equipment is in good working order including:
Good ventilation
Separate preparation areas
Well maintained cooking, storage and refrigeration areas
As well as having the correct procedures and catering equipment in place, food and hygiene inspectors will assess the cleanliness of the kitchen.
The part this plays in ensuring customer safety cannot be downplayed so having a kitchen that is easy to keep clean makes sense.
Smooth, easily maintained stainless steel worktops are easy to clean and non-porous, helping to stop food or liquid becoming embedded in the surface.
When it comes to food and hygiene in the commercial kitchen it is not worth taking a chance with outdated equipment. If any item of kitchen equipment is showing signs of age or is in need of repair take action to replace it before it becomes an issue.
It's also worth bearing in mind that appropriate staff training, relevant business operations and effective stock rotation are factors to maintain good practice in food hygiene processes.
Commercial catering equipment and installations
To replace catering equipment or update your commercial kitchen contact the Caterline Ltd team on 01384 459111.